the good, the bad, the idiotic
Friday. 4.16.10 2:08 pm
So I've got some stuff to update here, finals are almost over and then I will add it all in. it's going to take me a few hours of typing probably so I want to wait until I have the time to spare.
I went to go see AFI again, in California this time. I went to the Bamboozle festival which was pretty great. I can't wait to tell you about it/ post videos if I can. Needless to say, I was pretty happy to see AFI in their home territory, instead of boring old midwest. The day I got home, I did learn that they are coming to visit my hometown, two days before my 21st birthday. So fantastic! I was also grateful to be seeing Something Corporate at this show, I'm really glad that I got to be at the first real reunion, whether they tour now or not.
So I have a few new concerts to report on and what not! Social Distortion and Henry Rollins Spoken word are also coming through this summer, not together mind you but it is very cool. So I've been pretty happy with all of this.
Sometimes I think things get too good, and bad things happen just to balance it all out again.
On the parental front... mid finals (this morning) Mom called to tell me Dad served the divorce papers last night. A whole two weeks after hearing about it and then never having one more word said about it.... Mom moves out tomorrow. There is one way to throw away 28 years of life together! And to think, I used to think I had a semi-quintiessential family. I'm still trying not to be too mad at them, but I don't think give up should be in the vocabulary with something as important as marriage. Especially when they haven't tried talking it out, just one asked for divorce after weeks of silence and the other one gave it. I'm sure there are logical reasons, but from my angle it just looks like a pile of crap.
On a better note, my last final will be on Wednesday. I did my Spanish oral proficiency test today and did well. Just a little homework this weekend and I'll be freed to summer time and working at taco bell... wait did I say better note? ;) I'm not looking forward to my epic return to fast food but I must pay bills somehow!
Hope you all are doing well and are enjoying all this glorious sunshine!
Comment! (4) | Recommend!
Sunday. 4.4.10 4:36 pm
so I got a message from my mom today that informed me she is divorcing my dad. After 28 years of seeming happiness, they choose easter for this?
What do you do when the love you based your entire knowledge of ideal love on just collapses and blows away...?
Regardless, Happy Easter to you all! I hope it's going better for you! Did the easter bunny bring you anything happy? not that I'm certain what bunnie and eggs have to do with Easter...?
One thing I am excited for today is dinner! I managed to make my first entirely vegan meal. Spaghetti and meatballs, corn, mashed potatoes, stuffing and brownies. Adjust for fake meat, eggs, and milk throughout! Can't wait to try it all out!
Comment! (2) | Recommend!
Tuesday. 1.19.10 10:24 pm
How am I supposed to sleep when every time I close my eyes I dream of you even though each dream only brings me farther away from where I was supposed to be? And even though I'm happier here, how do I accept that this mess I've created is destroying my heart just to let me know what real love feels like and that I'll never attain it?
Clearly, I'm feeling a little confused lately. i wrote this spontaneously earlier today and it had no home, so I'm just posting it up here.
I hope you all are doing well with this new year!
Comment! (1) | Recommend!
Tuesday. 12.1.09 4:26 pm
Sunday. 11.8.09 11:52 am
I saw AFI this Friday, and it made me the happiest person in the world. I'm going to write down every detail I remember because I don't want to lose any of it and I'm a very forgetful person. You are welcome to read it all, but you really don't have to. It's more for me to look back on years from now, you know?
Now that we have a disclaimer: It was AMAZING! I drove the 500 miles to end up in Kansas City with two of my best friends. Laura and Karen were great for dealing with me and my excitement the whole way. Laura drove to my apartment early in the morning, a little too quickly according to the cops. She managed to conjure up a 114 dollar ticket, which was a bad way to start the day. We left here once she arrived and went to pick up Karen. We should have been counting because it was an impressive number, but I saw more cops in one day than I've seen in any month of my life. So speeding toward my excitement was out of the question... well at least a lot of speeding. One guy even followed me for a few miles after turning around, and I thought I was done for sure, but he decided against it I guess. We got Karen and stopped for a snack with my parents. Then we continued on the road for another long three hours, to finally start getting really confused by the lack of road signs in Kansas. We followed the mapquest directions until we arrived outside the venue.
The line was surprisingly short for arriving at 3:30. If it gives you a reference, last time I got there at 8 in the morning, determined to be the first in line. My buddies are too kind to me. We started packing up the essentials, tickets, water, phones, and money, just to realize that Laura no longer had her ticket. She had printed it and put it in her wallet, but when she got pulled over she had moved it out to get her license and stuff and forgot to put it back. In a panic that we are now several hours from getting it back, we called the venue for ideas. They said to get online, get the confirmation number, and call ticketmaster to have it changed to will call. The only problem was we were nowhere near a computer and the phone wasn't working with the internet. We contemplated asking the guy who was outside his house next to where we parked but Laura had to call her friend to get the sign in information anyway. Luckily her friend was an angel. She stopped what she was doing and ran to the nearest computer to get the information that we needed and ticketmaster was fairly easy to deal with. Now it was 4 and I was ready to jump into line, but we had to eat.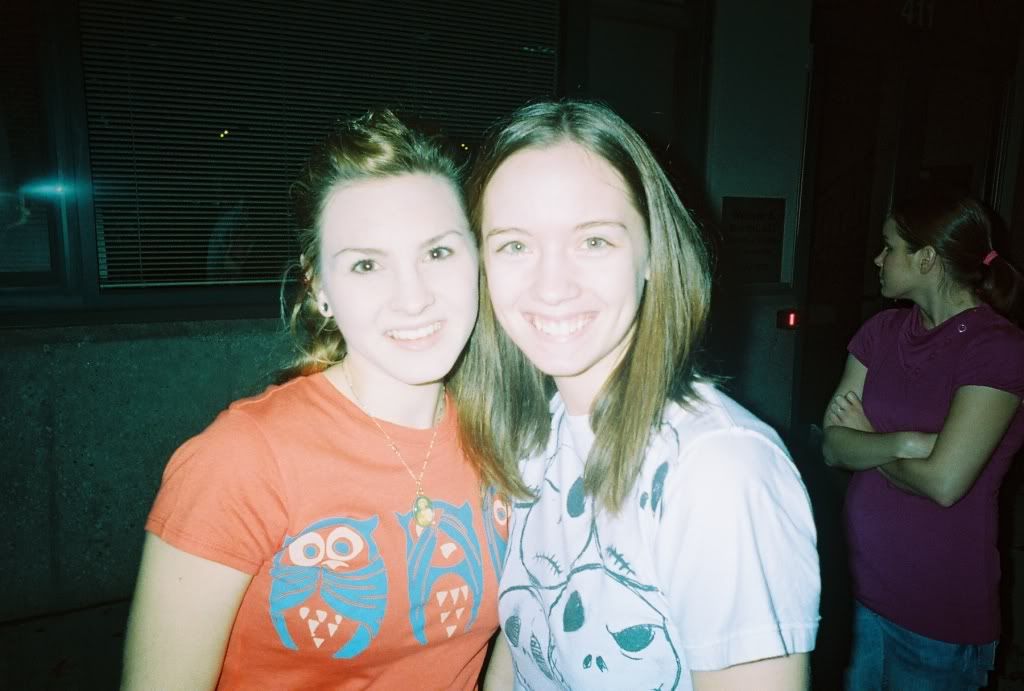 Once I joined the line, i wasn't leaving it and the end of the concert is a long and dangerous time to be hungry because I wasn't passing out this time! We changed our shoes and headed off from the car. We walked up to a 50's style diner not far away and had lunch. We laughed because we were all eating salads... when did we grow up? But there was still a rejection pile of tomatoes and peppers and onions that we were NOT eating, so I felt a little better. Otherwise, i got to have a grilled cheese. We got some shakes to go and then went to Walgreens. I bought a disposible camera because they were allowed at the venue last time. The worst they would do is throw it away and I wanted pictures. Of course, once we actually got in and I saw the amount of digital cameras, I realized I should have put it in my boot or something, I'm an idiot sometimes.
We sat and talked with the people around us for a while. I had missed the signing because when I was so excited about it, I didn't look hard enough at the date. 5 and 6 look alike in certain fonts when you barely glance at them. If I'd thought about it, I would have realized that they should be doing something concert related 2 hours before the show, not signing things, so I tried not to be too depressed about not meeting them. The line started to move and we got checked out, I asked about the camera and they let me keep it. Obviously, considering the accompanying pictures. After buying water, we continued to stand inside the venue, admireing the decore.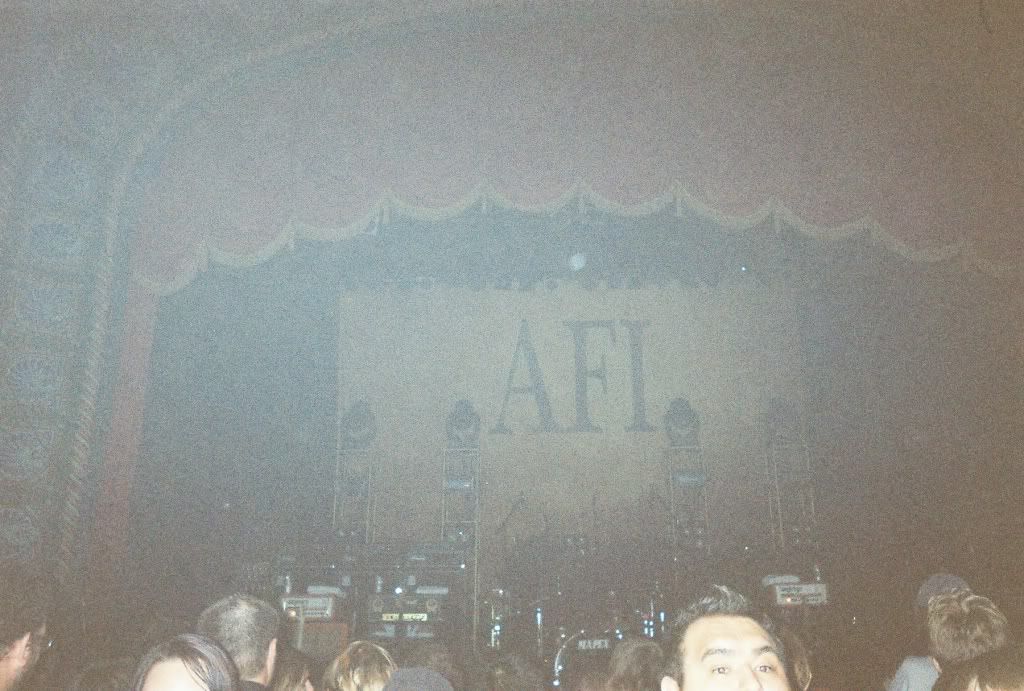 This is the crowd, look really enthused don't they?? Soon the first and only opening band started. They were the Gallows. I'm not much for hardcore music, but they were largely entertaining. The lead singer hopped over the barricade within the first song and made a little area for himself and his mic stand. Soon that wasn't good enough and he made a little bigger area around himself and made a dance floor. He had us move back between each song and had everyone dance. He used his mic stand like a lion tamers whip, it was funny. Eventually he got everyone to back up against the walls as much as possible and start a circle pit. I was super happy because I love to participate in those and this was the biggest one I had seen ever. I couldn't resist, despite the fact that we were pretty close to the stage and afi would be next. It was only a minute long song, which thrilled me too because I haven't heard a good minute long song in a really long time. I ran around the big room twice and then stopped back wtih my friends. A girl who had been in front of us wanted to run with me but her mom wouldn't let her go, which was sad. I felt bad for her because it was a great oppurtunity that doesn't roll around often. It occurred to me after a while to take a picture of the circle, but it was already half closed. So just imagine it was twice as big! The first band was definitely cool.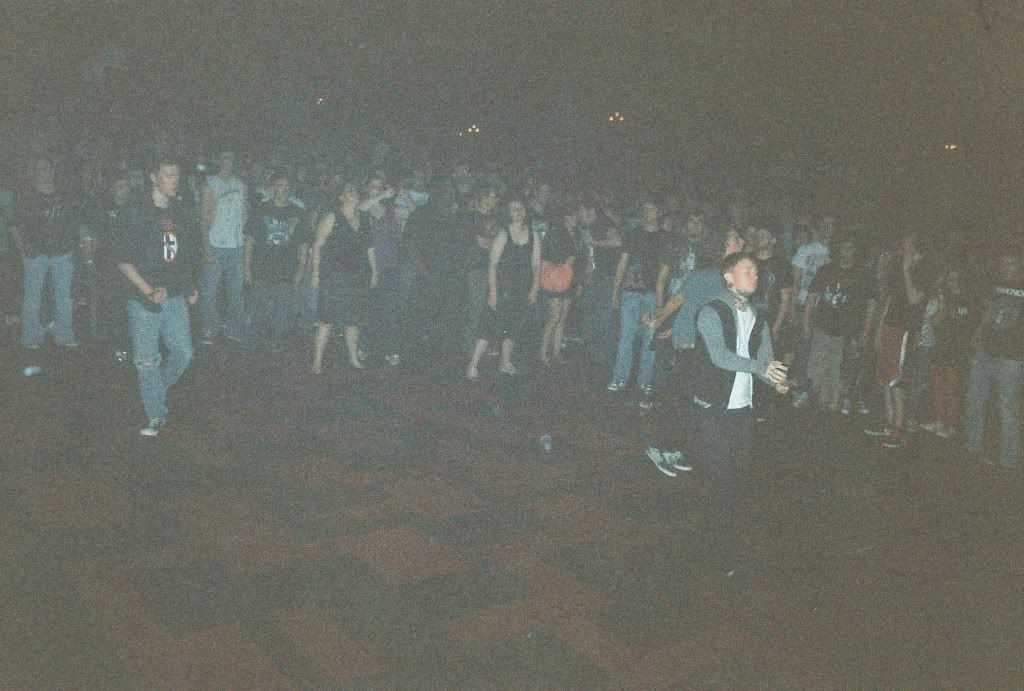 After the first band, and a little wait, I got what I came for. AFI rocked. They came out to the Torch Song. I'm terrible at remembering the whole set list but they played Affliction and Love Like Winter from Decemberunderground. I was pretty happy they left that one alone because that cd wasn't my favorite. When they released that, I thought I'd lost them lol but Crash Love is very redeeming. I have a feeling I'd love them through anything though. They played a lot from Sing the Sorrow like The Leaving Song, The Leaving Song Part II, and Bleed Black. Mostly, of course, they played from their new cd, including Beautiful Thieves, End Transmission, Too Shy to Scream, Veronica Sawyer Smokes and Medicate, since that was their hit. The coolest songs that they played was one of the extra tracks and even one they used to play with rancid, called Love is a many splendored thing. I never thought I'd hear that one live!! Davey said that they played it for the few out there who still remember when it was just them and three other people in the room, it was so awesome!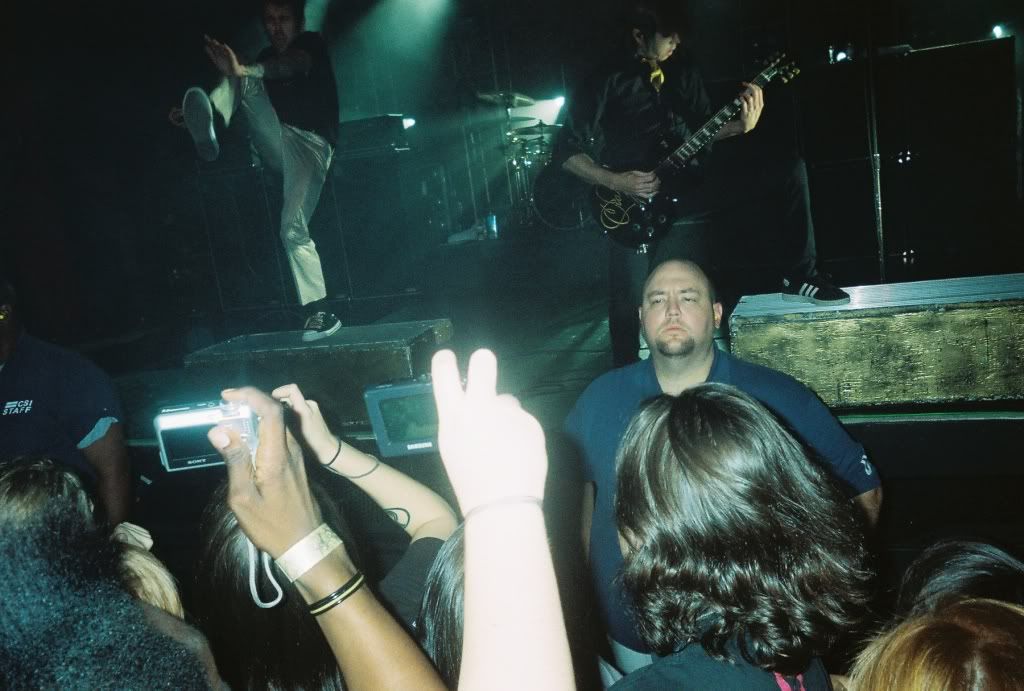 During the leaving song part II Jade's guitar quit connecting to the amp, and they quickly switched guitars out. Then that one didn't work either and it was during the part that is just Davey and Jade. So Jade said sorry and had to walk off stage for a minute and solve the problem. Davey said "This is the part where I have to be a funny front man..." He smiled like that was impossible and talked about the old days of singing about homework and not going to school. It seemed like he kind of missed those old days. Jade came back shortly however and said he was there to save us.
At one point they asked who had seen them before. I was happy to be able to yell for that. And they asked who hadn't and then wanted a response out of the people in the balcony. "What about you? Can you see us now?" It seemed like they really felt comfortable and had their stage presence in a way that said they knew they did a good job with their cd. I was highly impressed with how much they sounded like their cds this time. They were quite active and happy, jumping and crawling all over the place. I was sad they didn't play God Called In Sick Today and do the crow's walk, that's a trademark. I don't think they were feeling very well though and they did do it last time I saw them so it can be forgiven.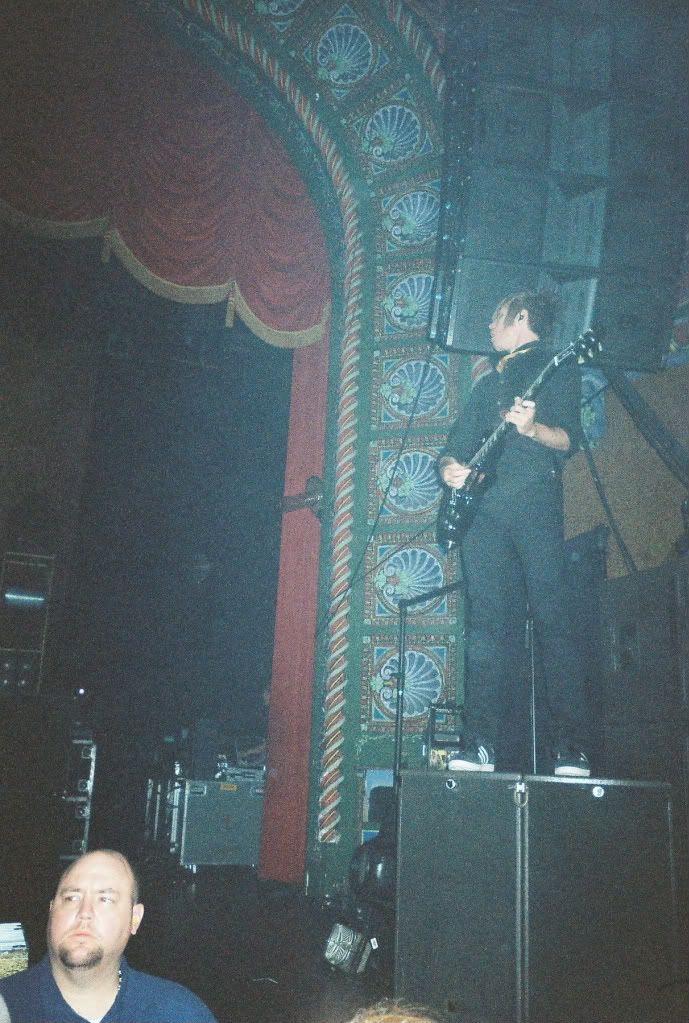 When they walked off stage, everyone stared chanting AFI but it didn't take long to upgrade into "Through our bleeding, we are one," which is the latest chant they invented as a way to an encore. They did come back and played Miss Murder, Girls Not Grey and Silver and Cold was very last. It was touching how beautiful it all was. I may not have gotten to hold Davey's hand this time, but when it was all over, I hugged the people around me and drove home.
I left very happy. And now the memory will be safe here for me forever. I can't trust my brain to remember it all the right way sometimes. If you managed to suffer through this retelling, I'm quite impressed! Thanks for dealing with me!
Comment! (2) | Recommend! | Categories: AFI [t], concert [t]
Thursday. 11.5.09 1:09 pm
I'm going to see AFI tomorrow! Two of my friends and I are driving down to Kansas City, which is an insanely long drive for us but I still want to go. I'm too excited about it to sit still and do homework...
I was particularly excited because they are doing a cd signing down the street. I was really freaking out about it until about a minute ago. Apparently you have to buy the new cd to get in the door though, and I already have that. It would be wierd to go see a band that is touring for a new disk and not know any of the songs, why wouldn't I and most anyone attending that concert own the cd? The few fans that actually live in the city are talking to the manager today to try and convince him to let us in anyway. I really want to meet them!
Anyway, that's roughly all I can think about, and I just had to shout it at somebody!
Hope everything is great in your lives!!
Comment! (6) | Recommend!